About Climat
Our Thesis :
Our thesis is that if the world has to restrict warming below 2oC, organizations will urgently need platforms to disclose their footprint, finance transition to sustainable operations, and offset current carbon impact.
Why Blockchain?
Blockchain is ideally suited to solve for some of the above problems through providing:
Transparency and traceability into sustainability data;

Enabling "Tokenization" of sustainability based assets to increase their liquidity and distribution;
Providing financing options such as decentralized finance, NFT based finance.
Climat :
We have built Climat - the world's first Climate focused Blockchain platform that will host an ecosystem of Climate specific Decentralized apps (Dapps) to bring transparency to climate based data and provide liquidity for climate specific assets.
Your complete resource for environmental sustainability solutions
Benefits
Tokenization
Enable tokenization of carbon credits, other green assets such as green loans/green bonds.
Traceability and transparency
Through the Blockchain, view real time sustainability metrics on supply chains, green assets such as green bonds/carbon credits; this data is self-reported by the issuers and validated by third party verifiers on-chain.
Global, 24/7 green asset market
Creating a highly liquid market for tokenized green assets which acts as a funnel for climate finance.
Ease of sustainability reporting
Being transparent and reporting sustainability information of your business activities is key to gaining stakeholders trust.
Offset carbon footprint
Purchase authentic carbon offsets from Climat and reduce your overall carbon footprint.
Reach climate goals
Set company wide UN-SDG goals, and monitor/update/showcase them to relevant stakeholders and showcase net-zero ambitions.
Monitor supply chain carbon emissions
Track scope 1,2,3 emissions across the value chain.
Assess supply chain climate risk
As per various RCP scenarios and open-source climate/weather data, our climate risk models can assess financial risk to supply chains based on given forecast data.
Create secondary markets
With tokenized green assets on Climat, multiple Defi and NFT products such as carbon derivatives, impact NFTs can be created.
Potential third-party solutions/Decentralized Apps on Climat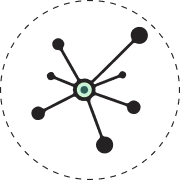 Defi for Carbon credits
Carbon credits as collateral within Defi platforms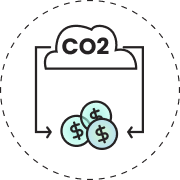 Carbon credit derivatives
Derivatives on various types of tokenized carbon credits.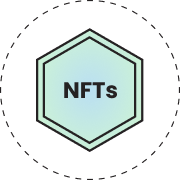 Climate Impact NFTs
NFTs representing positive climate impact based on any of the UN-SDGs.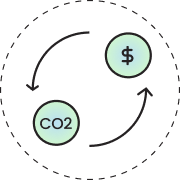 Carbon exchanges
Create a carbon exchange that can cater to multiple types of tokenized offsets.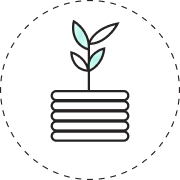 Tokenization of green loans
Green loans offered by lenders can be tokenized and offered to investors.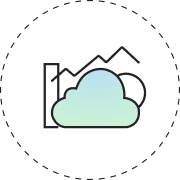 Climate risk modelling
Modelling climate risk through open-source climate and weather data.